Excelerate Energy moves its LNG Aguirre GasPort facility ahead
Excelerate Energy has signed an agreement with the Puerto Rico Electric Power Authority (PREPA) to develop and seek the necessary approvals to build a floating offshore LNG regasification facility off Puerto Rico's southern coast. The Aguirre GasPort facility will provide fuel to the Central Aguirre Power Plant.
The new LNG facility is part of the island's strategy to shift power generation away from expensive, high-emissions imported oil to cost-effective, cleaner-burning natural gas. The power plant has already converted 600MW of its total 1500MW capacity to use gas and has plans to convert the remainder before Excelerate's project completion.
"If we want to be competitive at the global level, we must substantially reduce dependence on oil. The construction of the Aguirre GasPort facility will allow us to reduce that dependency," according to a PREPA representative.
The Aguirre GasPort will be located around 6km offshore the southern coast of Puerto Rico, near the towns of Salinas and Guayama. The facility will use one of Excelerate Energy's 150,900 m3 floating storage and regasification vessels and will operate year-round.
No Responses
Leave a Reply
Make sure you enter the * required information where indicated.
You must be logged in to post a comment.
Q4 2011 Digital Magazine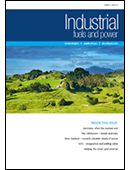 Click here to read the Q4 2011 Issue of Industrial Fuels & Power