Coal supplies drop to "critical" at most Indian power plants
Coal supplies have fallen to a "critical" level at Indian power plants, equivalent to around 70% of the country's electricity-generating capacity, said the Central Electricity Authority. Typical stocks are 15-30 days, but the reported pointed out the worsening situation in the country.
Fifty-two, out of 89, thermal power plants, had stockpiles of less than seven days' supply on 27 November. The latest picture reflects a worsening trend as in October, 46 such plants existed and in November 2010, only 29 units were labelled as critical.
Moreover, out of those 52 units, 31 were considered "super-critical" with less than four days' supply available.
Government data indicated that Indian power utilities fell short by 85% of the capacity needed to meet the government's target in October, despite power output rising 4.9% to 74,083GWh.
No Responses
Leave a Reply
Make sure you enter the * required information where indicated.
You must be logged in to post a comment.
Q4 2011 Digital Magazine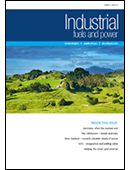 Click here to read the Q4 2011 Issue of Industrial Fuels & Power