Iceland's Landsvirkjun offers industry competitively-priced electricity
Iceland-based power generator Landsvirkjun announced that it currently offers US$43/MWh on up to 12-year contracts to industrial companies.
"These are Europe's most competitive rates in terms of price, length of contract and the fact that on top of that we offer 100 percent green and renewable power," said Magnus Bjarnason, EVP for Marketing and Business Development of the hydro and geothermal-based power producer. "Landsvirkjun is looking optimistically towards the opportunities ahead."
Landsvirkjun's clients are not only aluminium smelters, which dominate industrial demand, but also new industries such as data centres, methanol producers, silicon metal.
The company is developing a new geothermal power area in the northeastern part of the country with a view to generating its first power in early 2015. It is currently negotiating power purchase agreements with several industrial companies for the new plant.
No Responses
Leave a Reply
Make sure you enter the * required information where indicated.
You must be logged in to post a comment.
Q4 2011 Digital Magazine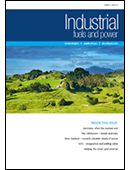 Click here to read the Q4 2011 Issue of Industrial Fuels & Power