Vietnam's power shift
Vietnam's rapid industrialisation will necessitate a shift in the way the country generates power, while balancing economic and environmental needs. IFandP considers the issues ahead as Vietnam counts on coal.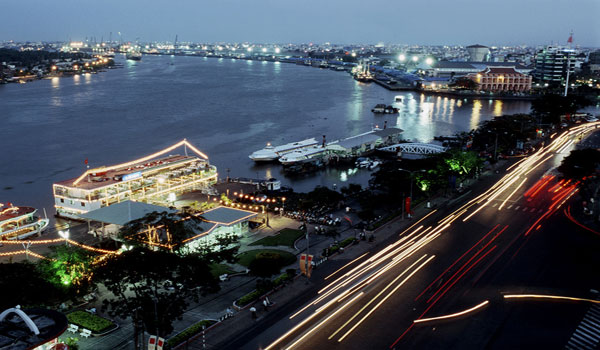 Vietnam's solid, strong growth in the last decade has been enabled by many factors with energy as a key driver. However, the country is facing the difficult challenge to maintain this economic expansion in a sustainable way.
Looking forward, it is expected that Vietnam will become increasingly dependent on fossil fuels with the share of renewable sources (excluding biomass) falling, bucking the trend in favour of sustainable development. The share of fossil fuels in the total primary energy supply is forecast to rise from 42% in 2002 to 69% in 2030 while at the same time, renewable sources will see their part reduced from 58% to 22% over the same period.
Building power
This challenge is particularly visible in the country's power sector, where chronic generation shortages are already affecting economic growth according to the World Bank, threatening the forecast 7.5-8% economic expansion.
According to Trinh Ngoc Khanh, head of planning at Vietnam Electricity (EVN), power consumption is forecast to nearly double to 175GWh in 2015 from its current 98GWh with generation rising from its present 110.8GWh to 196GWh over the period, leaving a relatively small margin.
Draught-induced low water levels in its numerous hydropower dams have caused rolling black-outs and its expected that the forecast rise in demand for power will exacerbate these deficits unless additional capacity is brought online. To meet this demand, capacity will have to double from its 2008 level to 39GW by 2020. And progress is made with EVN connecting 1085MW to the national power grid in the first seven months of this year with a further 1000MW planned for the rest of 2011. But this is but a fraction of the total requirement.
Recognising this need, last July, Vietnamese Prime Minister Nguyen Tan Dung approved an ambitious decade-long national power development plan to boost the country's power generation to 330TW by 2020.
Under the programme, Vietnam aims to import only 3% of its power requirement. And while the international movement is towards an increasing share of power from renewable energy sources, Vietnam is counting on coal to expand its power generation. The plan marks a significant shift from power generation based mainly on hydropower and gas to coal as the country looks for a more secure source to fuel its power stations, freeing it from current hydropower-based difficulties.
As can be seen from Figure 1, thermally-based power (primarily coal) is expected to account for nearly half of the total, virtually doubling its 2010 share, illustrating the advance of coal-based power at the expense of natural gas (down from 33% to 25%) and hydropower (declining from 40% to 23%) with some extra capacity sourced from renewables and nuclear power stations.
In terms of new power generation capacity forecast to come online during the next four years, coal-fired power generation accounts for nearly 58% of the total while hydropower makes up less than one third (see Table 1). In addition, just under 3000MW or 12% of all new capacity will take the shape of gas-fired power stations. Coal is clearly the favoured option.
Table 1 – New power generation capacity by source, 2011-15
Source
New capacity (MW)
Share in total new capacity (%)
Coal
14,370
57.6
Hydropower
7,605
30.5
Natural gas
2,970
11.9
Total
24,945
100.0
Investing in coal-based power generation capacity
Vietnam plans 90 new coal-based power plants by 2025, investing US$83bn to add 106GW of coal-based capacity to the sector.
In terms of actual projects, recent times have seen a number of companies receiving contracts for coal-fired power stations.
In late July, the Vietnamese Ministry of Trade and Industry signed an adjusted build-operate-transfer (BOT) contract for the US$1.95bn Mong Duong 2 coal-fired power plant with the plant's main investor, US-based AES Corp, who will hold a 51% stake in the facility. South Korea's Posco Power and the China Investment Corp hold the remaining stakes of 30% and 19%, respectively. The second facility of the Mong Duong complex is designed as a two-turbine plant with a combined capacity of 1240MW. Coal from provincial mines will supply the unit after commissioning in 2014.
Hanoi-based PetroVietnam Technical Services Corp, part of the PetroVietnam Group, recently awarded a contract to engineering firm Black & Veatch to design and manage the construction of the 1200MW Long Phu 1 Thermal Power Plant, the first of three facilities located at the planned 4400MW Long Phu Power Centre. The plant's two units will use supercritical technology and be fitted with technology to reduce air pollution, including acid rain-causing sulphur dioxide and the fine particles which lead to respiratory illness. The plant is expected to come online in 2014.
Meanwhile, EVN awarded a US$1.3bn engineering, procurement and construction (EPC) contract to the China-based Chengda-Dec-Swepdi-Zepc consortium to build the Duyen Hai 3 power plant in the Mekong Delta province of Tra Vinh. The 1245MW capacity plant will be part of the 4200MW Duyen Hai power complex. Chinese banks will provide loans to the value of 85% of the contract with EVN providing the balance. Once operational in 3Q2015, the facility will require 3.5Mta of anthracite coal, sourced from the northern coal hub province of Quang Ninh, to generate 7500-8000GWh of electricity.
In Quang Binh, PetroVietnam has started the construction of the US$1.65bn Quang Trach 1 power plant. The 1200MW unit is expected to use coal imported from Australia and Indonesia. While no coal consumption figures for the plant have been disclosed, it would not be unreasonable to expect a figure around 4Mta, as is the case for the similar 1200MW Hai Duong plant to be built in the northern province of Hai Duong. The two-turbine plant of Quang Trach 1 is slated for commissioning in June (first turbine) and December 2015 (second turbine). PetroVietnam also plans to build a second plant, Quang Trach 2, raising the total capacity of the complex to 2400MW.
In addition, PetroVietnam's planned unit at Song Hau in the southern province of Hau Giang represents a further investment of US$1.5bn. The facility, scheduled to come on-stream in 2015-16, is the first of three at the location. Combined Song Hau 1, 2 and 3 will add 5200MW of capacity to the national grid. Like Quang Trach 1, Vietnam is looking to import Indonesian and Australian coal for this unit.
And further coal-based power plants are currently under construction. For instance, Thailand's STFE Co has joined forces with local Khang Thong Construction, Trade & Service JSC to start building a 700MW, US$972m unit in Binh Dinh in 4Q2011 to enter service in 2014.
Powering up coal production
As Vietnam ramps up its coal-based power generation capacity to 36GW by 2020, its coal industry is expected to follow suit as demand for the thermal coal increases from an estimated 30.5Mt in 2010 to 49Mt in 2015 according to relatively conservative estimates. And further increases are expected: to 67.3Mt in 2020, reaching 112-115Mt in 2025 and 171Mt by 2030.
Meanwhile, state-run Vietnam National Coal & Mineral Industries Holding Corp (Vinacomin) is forecasting an increase in its annual production to 55Mt in 2015 and would need US$1bn for investment to enable this, said its CEO Le Minh Chuan. At present, the company envisages a coal output of 44Mt this year.
New mining areas are being explored and prepared for exploitation. For example, Vinacomin is expecting government approval for its Red River exploration project over the next few months. The Red River Basin holds over 210bnt of reserves and geologists have estimated that around 65-70bnt could be commercially mined. The coal is a low-sulphur, sub-bituminous type with a relatively high combustibility and energy content, particularly suited for use in the power and cement production sector. Vinacom, who signed a joint venture with PetroVietnam in 2009 to develop the project, said the first phase would focus on exploration and production of a 40bnt coal seam with eight mines in Thai Binh province, four in Hung Yeng province and one in Nam Dinh.
To keep pace with enhanced mining activities, the company prepared a National Coal Development Master Plan to be submitted to the government. The plan includes the construction of several new railroads and specialised port facilities for transporting and handling coal. For instance, Vietnamese Deputy Prime Minister Hoang Trung Hai recently asked EVN to research the lifting capacity of the coal transshipment at the US$5bn Duyen Hai power plant centre. EVN will need to improve the coal transshipment port so that the facility will be able to supply not only the Duyen Hai plant but also other coal-fired power units in the Mekong Delta (Long Phu and Song Hau).
From exports to imports
The urgent need for coal is also leading to other far-reaching changes in the Southeast Asian nation. Historically, Vietnam has been a net coal exporter. Over the past five years, it shipped over 126Mt of coal, mostly to neighbouring China. However, the country's coal exports have been declining in recent times. In the period January-August 2011, exports reached 11.13Mt of coal, down 15.9% YoY, a continuation of the trend noted in 2010, when exports fell by 4Mt to 20.8Mt against the 2009 level. Vinacomin said in April that Vietnam will gradually cut coal exports to 3Mta by 2015 from an anticipated 16.5Mt this year.
In addition, the Ministry of Finance has announced a tax hike for coal exports from 15% to 20%, effective from 11 September, despite Vinacomin's request to reduce the tax ot 10%.
In June the coal trading scenario underwent some further changes as the country imported 9575t of thermal coal from Indonesia, bought at US$100.60/t. For 2012, Vinacomin has scheduled coal imports of around 10Mt. And despite the planned expansion of its coal industry, it is expected that this will not be an isolated event, but the start of a longer-term trend. For starters, and as mentioned above, Japan's Marubeni has committed in principle to sell Vinacomin up to 2Mta from Indonesia or Australia to fuel some of Vietnam's new coal-fired power plants, scheduled to come online around 2015.
Looking further ahead, the country will have to import increasing amounts of the product over the next 15 years. It forecasts to import some 5.9Mt of coal in 2015, 15.4Mt in 2020 and 54.4Mt in 2025. against a background of rising coal consumption.
But challenges are not limited to sourcing the product. Large coal-fired power plants have appetites to match and 10,000t vessels can just about serve the daily ration. Nguyen Than Son, director of Song Hong Energy Company said: "Vietnam needs ships with the minimum tonnage of 50,000t and seaports with the depth of over 10m to import over 10Mt of coal a year.
"To be able to receive coal at ports in Australia, we need to have 100,000t vessels and have to pay for the carrying of coal from big tonnage ships which can stay on deep-water areas to thermal power plants far in mainland."
This inevitable comes with a hefty price tag. When calculating the investment costs for the Vinh Tan thermal power plant in Binh Thuan, investors were served with a US$200m cost estimate for building the 12Mt port needed to import the required volumes of coal.
With plenty of future challenges, it appears then that Vietnam's power shift will inevitably lead to shifts in other parts of the economy and an undoubtedly interesting time ahead.
No Responses
Leave a Reply
Make sure you enter the * required information where indicated.
You must be logged in to post a comment.