Thailand – Making the most of the sun
Thailand imports over half of its energy supply from abroad with the Middle East and fellow Far East countries making up the bulk of energy imports as the country's own contribution to its energy consumption is limited to around 44%. While most of this supply is met through natural gas, crude oil and hydropower, renewable energy is making its mark. The sector is set to benefit from an estimated US$700m in investment and its main beneficiary is solar energy. 
The Thai government plans to increase national solar energy capacity to 550MW by 2022. At present, capacity stands at just below 50MW but a feed-in tariff (FIT) of THB8.00/kWh over 10 years is leading to a boom. However, FITs for future projects have been reduced to THB6.50 in a new incentive scheme or "adder policy".
Nevertheless, business is booming with promises of more to come. Plants with a total capacity of 2000MW have received government approval and applications have been made for an additional 1300MW.
Bounty of projects
An overview of Thai solar projects quickly establishes that the market is witnessing a high level of activity, from small-scale to large projects, offering plenty of opportunities for the solar industry.
Thailand's largest solar power project, the Solar Farm project, implemented by Solar Power Co Ltd, will see the building of 6MW solar facilities at 34 sites, mainly in northeastern Thailand with Kyocera Corp (NYSE:KYO) is supplying around 1m solar modules, equivalent to 204MW. The power from the project will be sold to the Provincial Electricity Authority.
The US-based International Finance Corporation said that it is investing US$1.1m to acquire a 9% stake in two of Solar Power's 6MW projects in the northeast. "The investment follows a successful partnership between IFC and Solar Power Co in helping build the largest solar power plant in Southeast Asia earlier this year," IFC said at the time. In June, IFC had invested US$1.7m in Solar Power's 6.1-MW project in Nakhon Ratchasima, which is projected to generate an average of 9GWh/year.
The Lopburi Solar Project, 180km north of Bangkok, benefits from some of the country's highest solar radiation levels and its 85m elevation also makes it flood-proof – ideal as a setting for a 55MW solar project. The project is being developed by the National Development Energy Co, a joint venture between China Light and Power's CLP Thailand, Mitsubishi Corporation's (Frankfurt:MBI) Diamond Generating Asia, and Thailand's Electricity Generating Public Company. Japan's Sharp Corp (TYO:6753) is supplying about half a million thin-film silicon solar panels which are being screwed onto precast concrete foundations, made in an on-site facility, across the 2km2 plot. The scale of the project enabled Sharp to provide a 25-year equipment guarantee, said China Light and Power Thailand's MD, Peck Khamkanist.
The Lopburi Solar Project received a US$70m loan from the Asian Development Bank. Moreover, it was able to benefit from a raft of incentives, including a zero income tax for the first eight years and 50% for the next five as well as no import duties for equipment. And the company has plans for a 29MW expansion in the longer term.
Moreover, Solarta Co Ltd, a joint venture between independent power producer Ratchaburi Electricity Generating Holding and Yanhee Solar Power Co, is investing in two solar plants, Sai Yai and Sai Thong, just north of Bangkok. With a peak output of 9.7MW and 6.2MW, the plants are expected to supply 25GWh of solar power annually. Following the start of construction in June, the plants are scheduled to connect to the grid Provincial Electricity Authority by the end of the year. Phoenix Solar Singapore, a subsidiary of Germany-based Phoenix Solar AG, is working closely together with local construction company Process Engineering Services Co. SCHOTT Solar supplies 67,000 PV modules to the projects.
Conergy was awarded a follow-on order to design and build a 12.4MW solar array for local investor Yanhee Solar. Last year, the Germany-based PV systems manufacturer built the 3MW Ayutthaya array for Yanhee. The project will use 56,000 modules and is scheduled to be commissioned within a year, feeding an estimated 19.5GWh of power to the grid.
Thai trading company Loxley Public Co (BAK:LOXLEY) is building a 8.7MW solar farm in Prachin Buri province through its joint venture firm Solar 1, according to Bangkok Post reports. The company's VP for financial management, Piboon Piboontum said the THB850m project is expected to be completed in the third quarter of 2011. The Export-Import Bank of Thailand has granted a THB600m loan for the project while Loxley has signed a PPA with the Provincial Electricity Authority.
Last July, micro concentrated solar power developer Sopogy and MAI Development Co signed a memorandum of understanding for the development of a 6MW solar power plant in Bau Yai, Nakon Ratchasima Province, to supply electricity to the Provincial Electricity Authority of Thailand (PEA) in 2012.
Nakhon Ratchasima Solar Co hopes to bring its solar plant in the northeast of Thailand online in mid-October. The company awarded construction company CH Kamchang Public Co Ltd (BAK:CK) with the THB740.1m contract for the project.
Meanwhile, the first large-scale direct-steam generation-based parabolic trough power plant in Asia is nearing completion in the western province of Kanchanaburi. Occupying 100,000m2 and consisting of 32 360m-long parabolic troughs, the plant at Huai Krachao, some 350km northwest of Bangkok, has a nominal capacity of 5MW and is slated as the world's first commercial parabolic trough power plant using water rather than thermal oil as heat carrier. "It's a milestone for us," Joachim Krueger, the founder of Solarlite GmbH, the German company building the plant, said at the plant's final inspection. Over the past 18 months his team has been building the solar thermal power plant for Thai Solar Energy Co Ltd. In addition, the parabolic mirrors are manufactured out of light composite material. And more solar plants are planned. Thai Solar Energy has already commissioned two other units and Krueger says Solarlite has contracts to build 50 plants, typically of a 5-50MW range, in the country.
In the industrial field, Bangchak Petroleum plc (BCP – Stuttgart:7BP), the majority state-owned oil refinery, is seeking strategic partners to co-invent in the first phase of its solar farm in Lop Buri, Ayutthaya province, requiring THB4bn for a 34.5MW plant, which is scheduled to come online in November. In the longer-term, the company also plans a second phase, adding 9.43MW to bring the total capacity to 43.93MW. Andrew Beebe of Suntech, who is completing the project with local partner Solartron, says: "A unique aspect of the Bangchak project is that its design features a BIPV visitor center which will enable tourists, students and the general public to visit the site and learn more about nature's cleanest energy source. It's significant in its scope, but it's also representative of Thailand's leadership in the solar industry and its commitment to renewable energy technologies."
At the end of 2010, Indorama Ventures Public Co Ltd, a producer of purified terephtahalic acid (PTA), PET resin, polyester fibres and yarns, announced its plans to invest THB275m in the construction and development of a solar PV power project in Lop Buri. Total installed capacity will be 2MW. The company expects to cut its electricity costs considerably, improving its competitiveness particularly in its PET division, which sees half of its expenses due to power costs.
Preparing for opportunities to come
And the solar industry is taking note of the opportunities to come. US-based GE Energy (NYSE:GE) plans to introduce its cadmium telluride (CdTe) thin-film PV technology to the Thai solar energy market within the next two years. The company recently invested US$600m in a 400MW manufacturing plant in the US and Kovit Kantapasara, country executive for Indochina, said once the facility was completed in 2013, the company would enter the Thai market. GE has held discussions with clients in the country who had been granted PPA with the Energy Ministry.
Meanwhile, Dow Chemical (NYSE:DOW) is building a new petrochemical plant in Map Ta Phut, Rayong. The new unit will begin construction next year and will produce its Enlight polyolefin encapsulant films used in PV modules. "The Map Ta Phut operation will be built with the latest energy efficiency techniques and supports our strategy to further enhance and expand our presence in Thailand," says Jirasak Singmaneechai, Dow's Thailand Country Manager, who also indicated that 30-35 positions will be created. He added that the Thailand site is Dow's largest manufacturing facility in the Asia-Pacific region, with excellent access to a seaport.
Solar inverter manufacturer SMA Solar (XETRA:S92) recently announced it planned to move into Thailand and Japan following Germany's cut in state support for solar industry. "We have to move into new markets," CEO Pierre-Pascal Urbon told magazine WirtschaftsWoche.
As a result, Thailand appears to be a particularly sunny place to be if you are a solar power developer or equipment manufacturer. Making the most of the sun is an opportunity not to be lost in a world economy clouded by recession.
No Responses
Leave a Reply
Make sure you enter the * required information where indicated.
You must be logged in to post a comment.
Q4 2011 Digital Magazine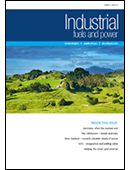 Click here to read the Q4 2011 Issue of Industrial Fuels & Power