Fitch Ratings: small coal-fired power plants in five US states most under threat from tougher air quality regulations
Fitch Ratings issued a special report on Monday, entitled "Time to Retire? US Coal Plants in Environmental Crosshairs." It warns that 16700MW of plants located in the states of Indiana, Illinois, Michigan, Ohio and Pennsylvania are most at risk with the majority under 200MW and with an average age of 50 years. Tennessee has the most such capacity (3985MW or 40.7% of total state coal capacity), followed by Ohio (3762MW or 16.2%), Indiana (3744MW or 17.8%), Michigan (3715MW or 29.9%) and Kentucky (3450MW or 20.7%).
"There is not an economic case for owners of old and small power plants to incur the high capital investments and increased operating costs to retrofit such units to comply with multiple rules affecting various pollutants. It is therefore likely that the combination of older and smaller coal units will result in this region seeing the most retirements," said Bhala Mehendale, the author of the report.
However, the agency claims that "It is likely that federal legislation and [EPA] regulations may be held up by political uncertainty and judicial challenges."
No Responses
Leave a Reply
Make sure you enter the * required information where indicated.
You must be logged in to post a comment.
Q4 2011 Digital Magazine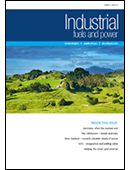 Click here to read the Q4 2011 Issue of Industrial Fuels & Power